Did you know that it's possible to train your cat to perform tricks? Check out what these 7 amazing cats can do!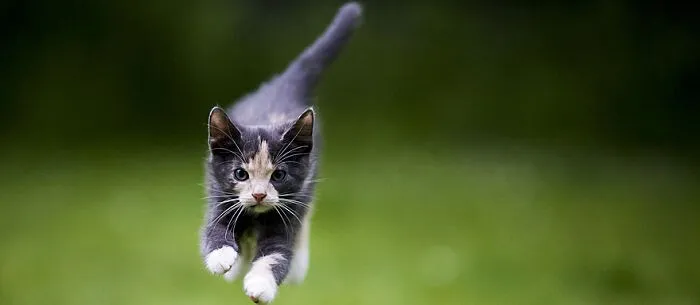 Your cat won't even come when you call her, so there's no way you can teach her how to do a trick on command, right? Well, believe it or not, you can teach your feline companion to perform various entertaining tasks. All it takes is a little hard work and practice.
Just check out these seven amazing cat tricks:

Marmalade: The Cat Who Uses the Toilet (and Flushes!)
Tired of scooping out all of that litter? Try training your cat to use the toilet. Marmalade even flushes after she finishes her business!
Are you amazed by Marmalade's potty behavior? Well, it's not as unusual as you may think. In fact, many people train their cats to use the toilet. While you can purchase removable pans that are specifically meant to be used for potty training a cat, you can also use one of your own trays. Set the scene by placing a small amount of litter inside a tray that fits over your toilet. Over time, you should continually decrease the amount of litter you provide and switch out the tray for smaller and smaller versions. Pretty soon, your cat will be able to use the toilet without any other tools.cat in toilet
Gizmo: The Cat Who Hangs Upside Down
Do you ever feel like someone's watching you? It's probably just Gizmo, a cat who's busy hanging around on top of a doorway. Check out how this talented feline defies gravity with his acrobatics!
While it may not be easy for you to train your cat to hang upside down in a doorway, you can teach her how to roll over by following a few simple steps. When you find your feline companion lying down across the floor, you should casually bring a treat over to her face, close enough so that it's just out of reach. Then, you should move the treat back and forth in front of her face. At this point, your cat should instinctively move to follow the treat. As a result, she will roll back and forth along the floor.

Coco: The Cat Who Plays the Guessing Game
You can't hide anything from Coco! Watch as she correctly guesses where her owners have hidden a treat multiple times.
Do you think your cat is up to the challenge? If so, you should try out this trick at home by standing in front of your pet as you place a toy, piece of food or foil ball underneath a plastic cup. Then, place two empty cups alongside it and proceed to the move the cups around in the pattern of your choosing. Now, it's time for the moment of truth: Ask your cat to find the object. If she doesn't get it right the first time, you should keep practicing! One day soon she may tap her paw on the correct cup.

Didga: The Cat Who Skateboards
If you have a skateboard, you're the coolest cat around. At least that's what Didga thinks to herself as she cruises down the street like a pro. Go Didga, go!
While your cat may not take to skateboarding, you can certainly teach her how to spin. According to Robert Dollwet, Didga's owner and trainer, you should start by holding a treat or piece of food just out of your pet's reach. Dollwet recommends that you use "raw, minced meat delivered from a spoon." Once you're armed with a spoon filled with food, you should let your cat take a bite and begin to slowly walk around in a circle — your feline companion will follow! With each practice session, you should wait a little longer before giving your pet the food or treat on the spoon. Eventually, he will learn to walk around in a full circle before getting his yummy reward.

Momotato: The Cat Who Walks on Two Legs
Somewhere along the way, Momotato missed the memo that he was a cat. Watch as he walks around on two legs!  
Want to see if your pet is up to the task? You can encourage your pet to stand up by holding a treat above his head. You should start off by dangling his prize just out of reach. Then, as you continue to repeat the exercise, you should gradually increase the height at which you hold the treat. If all goes well, your cat will eventually stand up on his two hind legs so that he can claim his prize.cat tricks
Chita: The Cat Who Jumps Through Hoops
With a lot of practice and dedication, Chita learned how to jump through hula-hoops. Watch as she performs this task effortlessly. Now that's a star!
Are you interested in trying out this trick at home? All you need is a hula-hoop and some treats! When you're ready to begin, you should raise the hula-hoop above the ground — but not too high! Then, you should hold a treat on the other side as an incentive. You may be surprised to find that your cat will literally jump through hoops to reach a yummy reward. If your pet gets the hang of this, you can start to lift the hula-hoop higher and higher.

Nylah: The Cat Who Uses a Fork
If you want your cat to eat at the dinner table, you better teach her some manners. Just tell your feline companion to take a lesson from Nylah, a cat who can actually use a fork to eat her food!